Production Time Options:
Click here for more info.

Crisis

Urgent

Critical

Quick

Standard

48 Hours

72 Hours

1 Week

2 Weeks

3 Weeks
Production Time Options:
Click here for more info.

Crisis

48 Hours

Urgent

72 Hours

Critical

1 Week

Quick

2 Weeks

Standard

3 Weeks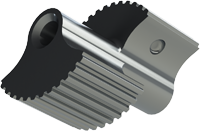 Timing belts and pulleys offer a positive drive through the engagement of the molded teeth in the belt with accurately spaced grooves on the pulley. The action of the belt teeth entering and leaving the pulley grooves is positive, smoother operating and more silent than other types of drives.
American Standard
HTD
Synchroflex
MXL - .080 Pitch
3MM Pitch
T2.5MM Pitch
XL - .200 Pitch
5MM Pitch
T5MM Pitch
L - .375 Pitch
8MM Pitch
T10MM Pitch
H - .500 Pitch
14MM Pitch
T10MM Pitch
XH - .875 Pitch
20MM Pitch
--
XXH - 1.250 Pitch
--
--
Flanged Pulleys VS Unflanged Pulleys
When the center distance is greater than eight times the diameter of the smaller pulley or when the drive is operating vertically both pulleys should be flanged.